Posted on April 30, 2011 11:37 pm under The Inheritance
Tags: fiction, meme, novel, serialized, Three Word Wednesday | 11 Comments
Next: Artistic Trash
Previous: Lack Of Dough

Kelly turned onto Beach Road. Large homes peeked from behind tall trees and security gates. Some were owned by the town's more affluent citizens. Others were vacation homes and remained unoccupied for much of the year. Her grandfather had been the neighborhood's only factory worker.
Ned Conley began work at the textile factory on his sixteenth birthday. His parents offered no resistance. Ned was good with his hands and took care of their home repairs, but he was a poor student and they had a lot of mouths to feed. He gave half of each week's earnings to his parents and banked the rest. At eighteen, he joined the military. By the time he returned, another child had been added and Ned's few possessions had been boxed and relegated to the attic. Ned moved into a boardinghouse and resumed work at the factory. He returned home each Sunday for dinner, praising his mother's cooking, discussing politics with his father and playing with his younger siblings. Before leaving, he stuffed half his week's earning into his mother's cracked sugar bowl.
Posted on April 29, 2011 3:58 am under Story Ideas
Tags: book blurb, Book Blurb Friday, fiction, meme | 12 Comments
Romance or murder mystery?
Delicate Southern belle, Julie Cotter, is left stranded at the altar by her childhood sweetheart. Embarrassed by the rejection and smothered by small town curiosity, she packs a suitcase and starts to drive. Soon she regrets her impulsiveness and decides to return home. Plans change, when her car slips off a nearly deserted road and careens down an embankment. After three hours of walking, her face is sunburned, her feet are blistered and she prays for rescue.
Shane Denver wasn't the answer to anyone's prayers. But with limited options, Julie climbs on his motorcycle and clings to the rough stranger, whose face is cloaked behind smoky glasses. Shane is hiding more than his face. As he leaves the road for a small wooded trail, Julie fears she has made a fatal error.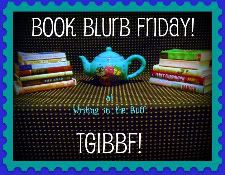 Book Blurb Friday is hosted by Lisa Ricard Claro, who posts a weekly photo and challenges us to "write a book jacket blurb (150 words or less) so enticing that potential readers would feel compelled to buy the book." That's quite a challenge, but it's a lot of fun as well. Click on the image at the left to read more blurbs or enter one of your own.
Posted on April 29, 2011 12:01 am under Weekend Writer's Retreat
Tags: excerpt, fiction, lyrics, poetry, serialized, Story | Comments are off
Write a post on your blog that shows us your original creative writing.
Somewhere on your sidebar or post use our button or provide a text link back to the Weekend Writer's Retreat.

Add a direct link to your WWR post, not your blog, on the current week's Linky Tool.
Have fun reading and commenting on other's submissions and finding out what they think of your writing.
We look forward seeing what's been written this week.
Posted on April 28, 2011 8:25 pm under American Idol
Tags: American Idol | Comments are off
An acknowledgement of the royal wedding and the Idols try out their best British accents. That was cute. Wish I could say the same for the group number that followed. It smoothed out some towards the end, but it was never pretty. Even Grandma's do-no-wrong James had an off key moment. Moving right along.
Last season's runner-up, Crystal Bowersox, was back to perform Riding With The Radio. I've always enjoyed Crystal and I was sorely disappointed that she didn't win. I enjoyed seeing her again, although her performance was just a bit too polished. I always loved the authenticity of her songs and found that missing. Still, it was good to see her on the stage once more.
Read more »
Posted on April 27, 2011 7:34 pm under American Idol
Tags: American Idol, James Durbin | Comments are off
Ryan announces that the Idols will be singing Carole King songs. This week, there will be both a solo and a duet performance. They start with the solos.
Up first is Jacob, who chooses Oh No Not My Baby. The performance had a frantic quality to it, which is probably reflective of how the diva is feeling at the minute. Oh wait, if he goes home it's America's fault. Right, Jacob? After the performance he says he thinks he's done what the judges wanted. I just want him to go home.
Read more »