Posted on April 29, 2012 10:16 pm under Family
| 4 Comments
The last week has really shifted our schedules. Calico, Miss Muffin and I are night owls by nature. Heading to bed at 3am is considered an early night. This isn't a problem. Most of their schooling is done virtually with a flexible schedule. In the coming week, however, they must leave the house before 8AM, so that Miss Muffin can take her TCAPs. These are Tennessee's academic proficiency exams for elementary and middle school students.
Miss Muffin is a good student and standardized tests, taken earlier this year, placed her in the 99th percentile nationally, when compared to other 4th grade students. So we don't anticipate any trouble with the tests, but we did worry that she would have difficulty waking up. And what if she felt asleep during the testing? So for the last ten days, we have worked to achieve an earlier bedtime and wakeup. It hasn't been easy, but we have gradually worked towards an 11pm bedtime. Still a bit late, but the best we could manage.
Read more »
Posted on April 28, 2012 11:01 pm under Microfiction
Tags: fiction, flash fiction, meme, Story, Succinctly Yours | 5 Comments
Jekyll and Hyde
Try as he might, nothing could thwart his darker side. Charming millions of children by day, Barney inflicted terror after sundown . (133)
Cramped Inside
"I smell Big Macs."
"Okay, Bob, but we're using the drive thru this time. I can't afford to pay for more broken booths." (120)
Hitchin' A Ride
Eight hours with thumbs up and still no ride. Rex bravely held his pose, but Yoshi started whimpering about hand cramps. (122)
Posted on April 28, 2012 2:49 pm under Succinctly Yours
Tags: meme, microfiction | Comments are off
How low can you go?
Use the photo as inspiration for a story of 140 characters OR 140 words.Click For Details
Photo for Monday, April 30th
Click photo for larger image.
Please don't leave a link, if you aren't participating in this meme. The link will be removed.
Posted on April 23, 2012 1:40 am under Microfiction
Tags: fiction, flash fiction, meme, Story, Succinctly Yours | 6 Comments
What's For Dinner?
We've got enough firewood, get the tenderizer. This one looks tough. (69)
Black Tie Sinner
The invitation had requested formal attire. Joe's outfit failed by any cultural standard. (91)
No Dancing Winner
"You put both hands in. You put both hands out."
He was an enchanting visitor, but his people must not know the Hokey-Pokey. (124)
I hadn't realized just how cross-cultural the Hokey-Pokey is. While searching for this video, I saw it performed by everyone from kids to seniors and Harry Potter to rappers. Evidently, it even crosses species!
Posted on April 22, 2012 3:06 pm under Story Ideas
Tags: book blurb, Book Blurb Friday, Story, story idea | 1 Comment


It was an unexpected friendship.
Corporate CEO, Katherine Lantz, lives in a New York City high rise with her adoring husband, five children and three dogs. Sadie Walters spent fifteen years caring for her invalid parents. Now she lives alone in their country cottage, twenty miles from her nearest neighbor.
When the pair meet at an online needlepoint forum, they feel an instant bond. A year later, Sadie invites Katherine for a long weekend of conversation, needlepoint and country tranquility.
It's a perfect weekend until Sadie disappears, the power fails and Katherine is left alone with the light of the moon and the howls of wolves coming closer and closer.
If Katherine wants to see her family again, she will need to muster more than boardroom savvy.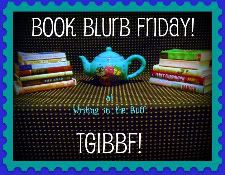 Book Blurb Friday is hosted by Lisa Ricard Claro, who posts a weekly photo and challenges us to "write a book jacket blurb (150 words or less) so enticing that potential readers would feel compelled to buy the book." That's quite a challenge, but it's a lot of fun as well. Click on the image at the left to read more blurbs or enter one of your own.

This week's blurb has 127 words.